GM's Mary Barra Made Big Promises, And She's Starting to Deliver
General Motors has come a long way since 2009 when the United States government provided the financing for its Chapter 11 bankruptcy. Today, the company's focus is on developing and implementing its battery electric vehicle (BEV) architecture, the Ultium EV Platform, which underpins some of its newest electric vehicles (EVs) in the passenger and commercial vehicle space.
In 2021, GM sold less than 25,000 electric vehicles in the United States, most of them either the Bolt EV or the Bolt EUV. It moved one GMC Hummer and its BrightDrop commercial van was still in the reservation phase. Cadillac Lyriq orders were open, but deliveries had yet to be made.
CEO Mary Barra has shown confidence in GM's ability to gain electric vehicle market share with billions in investments, despite having only those three consumer EVs currently on sale. Several additional models have been announced and revealed for the coming years.
Barra took the helm at GM in January of 2014, the first woman to hold the highest office at a global automaker. Soon after, the roadmap and promises on electric vehicles started coming fast and furious. The next year Chevrolet introduced the Bolt EV, a crossover designed to compete with the the Tesla Model Y but cost less.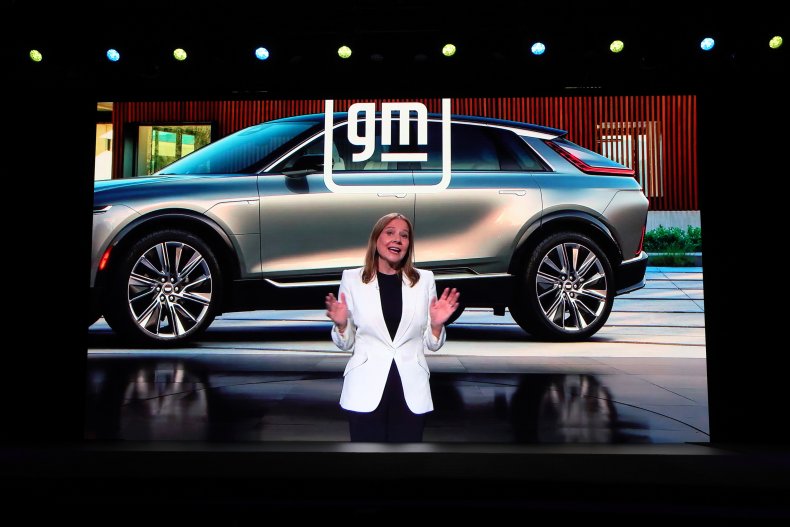 GM promised in 2017 that it would introduce two new vehicles based on the learnings from the Bolt EV, and that they would be the first of "at least 20 new all-electric vehicles that will launch by 2023". Out of that came a fresh take on the Bolt, the Bolt EUV, a larger crossover with Super Cruise hands-off driver assist technology and.
"EVs are about Mary [Barra] having a story for Wall Street to say how they are going to compete with Tesla (and Ford) and to reach a new market for them which is the coastal buyers who prefer Toyota and BMW to Chevy and Cadillac," Loren McDonald, CEO of EVAdoption, an EV/EV charging consulting and analyst firm told Newsweek.
"The Bolt is, in essence, their Toyota Prius; the GMC Hummer EV was a prototype beast of a $100,000 vehicle to learn from when building the Silverado EV. The Lyriq is an exciting opportunity to reinvigorate the Cadillac brand (GM executives have told me reviving the Cadillac brand via electrification is a once-in-a-career opportunity); the Celestiq is a halo car that will sell maybe a few thousand over several years and is just a form of advertising to help excite people about the brand," McDonald said.
The first two brought to market after the Bolt EV and Bolt EUV were the GMC Hummer EV and the Cadillac Lyriq EV. Since then, the market has seen the introduction of the Chevrolet Blazer and Equinox EVs, Chevy Silverado EV, GMC Sierra 1500 EV, Cadillac Celestiq and the two BrightDrop vans, which GM is including in its 20-vehicle total.
A representative from GM told Newsweek that their definition of launch means introduce, not put on sale.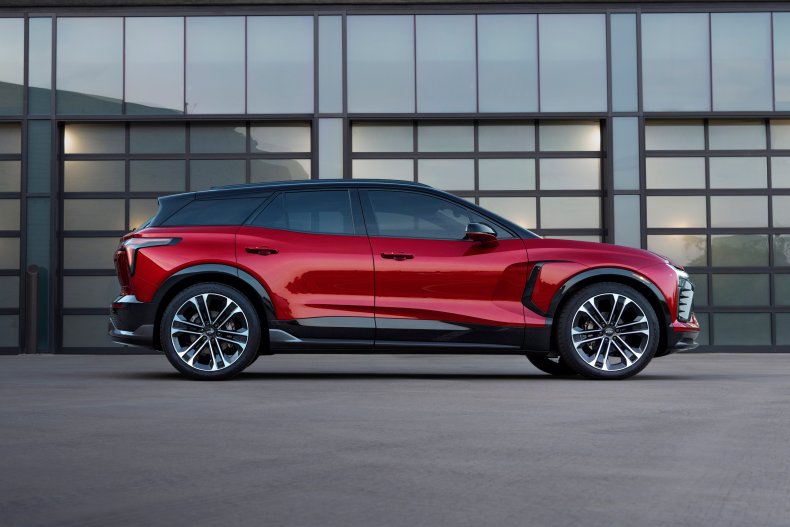 "The real key is going to be how the Chevrolet Blazer and Equinox EVs sell. But the Blazer is not cheap and with battery prices and everything else climbing, it is going to be interesting to see what price point they can bring the Equinox in at," McDonald said.
The gas-powered Equinox and Blazer both sell well in their respective segments, but the new electric versions will get a different competitive set. The Blazer EV will deal with the Ford Mustang Mach-E, Hyundai Ioniq 5, Kia EV6, Polestar 2 and others. The less-expensive Equinox will be one of the first EVs, along with the Bolt and Nissan Leaf, to come in around the $30,000 USD mark before EV tax credits.
In 2018 GM lobbied the government to both extend the $7,500 USD EV tax credit past 200,000 units sold, a threshold that GM crossed in 2019, and fought to get rid of the California Air Resources Board and its stricter emissions rules saying that, "a single, 50-state solution will help move the U.S. to a leadership position in electrification. It will create jobs through the expansion of battery and electric vehicle research and development and production, improve the environment and make electric vehicles more affordable," in a USA Today op-ed in.
The California Air Resources Board, the state's clean air agency, is still around, and recently moved to accelerate their plan to require all new cars, pickup trucks and SUVs sold in Califronia to fall under the "zero emissions" vehicle category by 2035.
During GM's EV Day press event in March 2020, Barra made it clear that the company had its sights set on Tesla. GM said it would invest $20 billion on electric vehicles through 2025, adding that they would be capable of 400 miles or more, charge more than 100 miles in 10 minutes and accelerate from zero to 60 miles per hour (mph) in as low as 3 seconds. Those specifications were in line with Tesla's Model S at the time.
Later, Barra promised the automaker will bring to market 30 all-electric models globally by mid-decade. That's an increase from the previous claim of 20 EVs by 2023.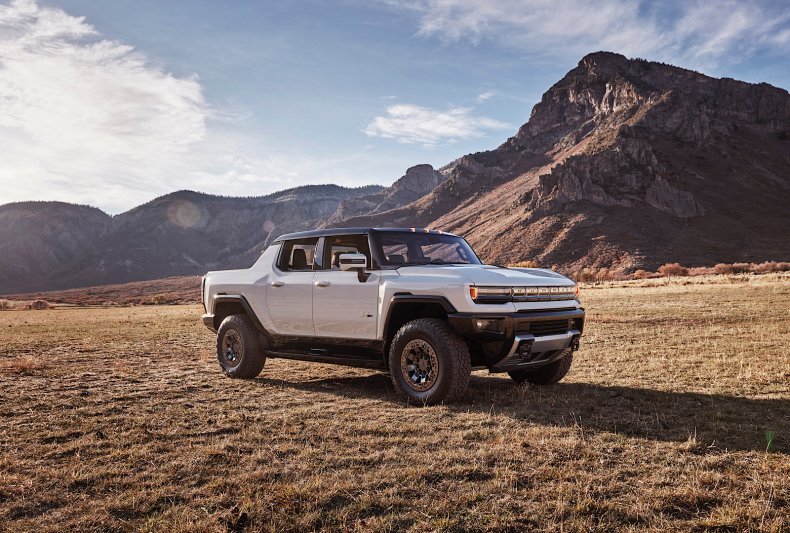 "The fact that we announced … that we'll have 30 vehicles by 2025, two-thirds of them in the United States, and a goal to have over a million, it's not window dressing," Barra said on the Freakonomics Podcast in 2020.
"The way I look at it is, our strong truck business is funding our ability to go fast in EVs. I would also say every single truck, every time we put a new generation out, it's more fuel-efficient. The faster General Motors solves some of consumers' concerns or challenges as it relates to EVs, the faster that transition will happen."
Barra also said GM will boost its financial investment to $27 billion USD through 2025, up from the $20 billion USD planned before the pandemic.
"The transition to EVs is not a sprint, it's a marathon. At the end of the marathon is a product portfolio that is predominantly EVs, and the transition to supporting those vehicle lifecycles. In the end, who was first won't carry as much weight. GM announced early, was slowed relative to the pandemic, though also moved some other things quickly. As a result, it can feel longer than it was," Stephanie Brinley, principal analyst at S&P Global told Newsweek.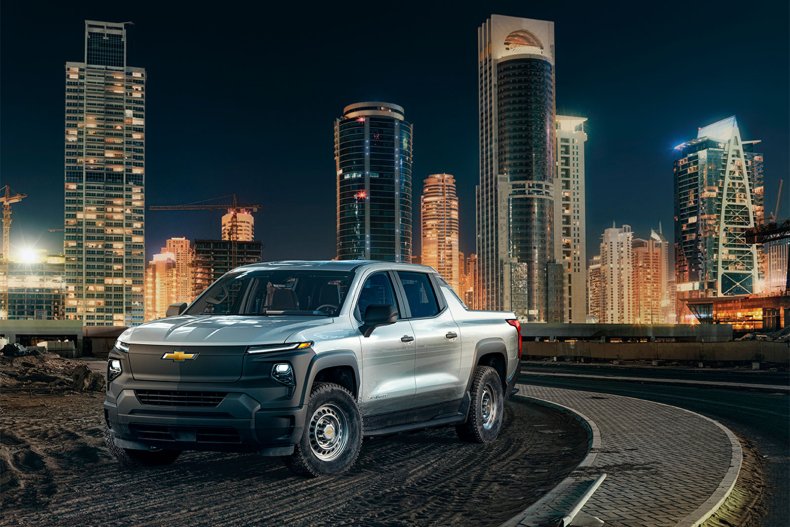 The rapid pace of announcements continued with GM naming five assembly plants in North America that will create EVs. The list includes the Detroit-area Orion Assembly and Factory ZERO, Spring Hill Assembly in Tennessee, and plants in Canada and Mexico.
Creating EV manufacturing opportunities will help the company come into compliance with the new rules of the Inflation Reduction Act. Rule-making for the Act is ongoing, but expected to change the limit on electric vehicles eligible for tax credits, among other things.
Barra told CNBC's Squawk Box in October that she was very comfortable saying GM would sell the most electric vehicles than Tesla, "because when people get into these vehicles, they are just wowed. So, we will be rolling them out and we're going to just keep working until we have No. 1 market share in EVs."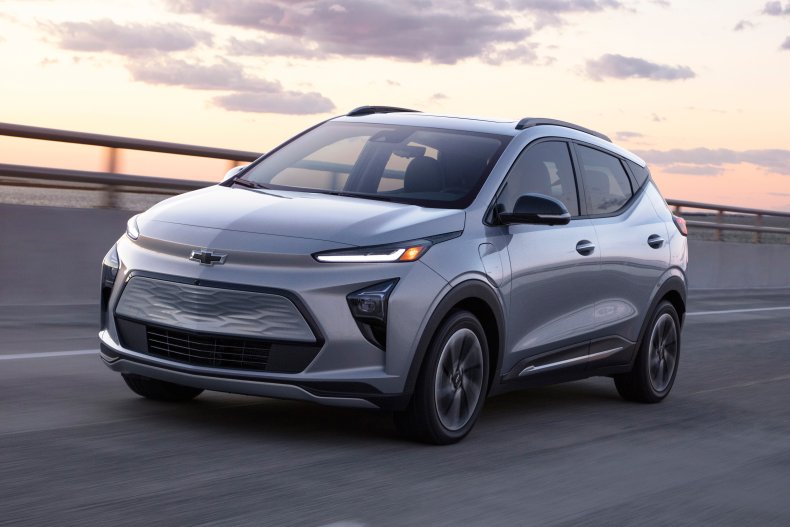 "To really get to 30-, 40-, 50-percent EVs being sold, you have to appeal to people that are in that $30,000 to $35,000 price range," Barra said in an interview with the Associated Press.
Barra says GM will have to win customers that only own one vehicle and notes that the company has the highest loyalty rating.
"We have manufacturing plants that are ready to go, and so, when I look at our ability to scale, to serve customers, I think we're incredibly well-positioned. And we're not going to cede our leadership position to anyone," Barra said.
"Reaching that customer is where you're really going to get scale, and I'm very proud that at General Motors, we do that with the Chevrolet brand, across the board, from trucks to the crossovers to smaller vehicles," she told Automotive News in December.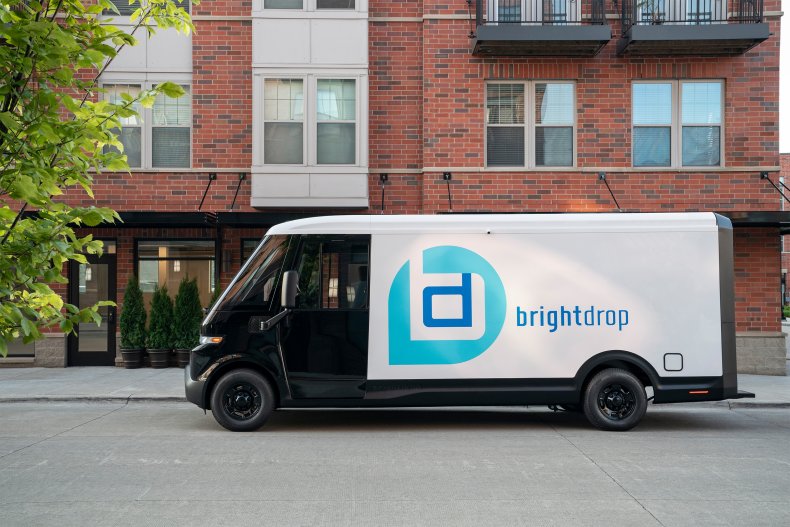 If you get liberal with the counting of the new vehicles, technically GM could say it has 11 announced and coming by the end of 2023, Sam Abuelsamid, principal analyst E-mobility at Guidehouse Insights told Newsweek.
"I expect there will also be a GMC EV, a Buick compact EV and a Cadillac compact utility EV by the end of 2023. I'm guessing we'll also have full size SUVs like Tahoe, Yukon and Escalade by 2025 as well as a Corvette and assorted others," he said
Those would get the company to 18 EVs for the US by 2025, ignoring the assorted others, which puts the company very close to its promises. As for taking down Tesla as the number one in EV market share, Abuelsamid thinks it's possible.
"I think it's certainly possible that they can outsell Tesla in that time frame. GM will have a more robust product mix in categories that sell in large volumes, especially trucks and combined with their retail and service network, that could give them an edge," Abuelsamid said.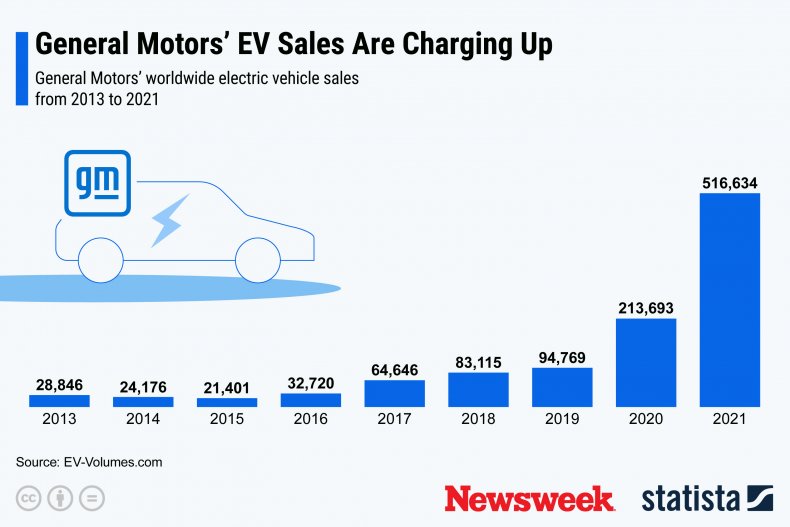 "However, there's no guarantee that they will be able to sell or even build that many EVs. A lot depends on lining up the supply chain for battery materials. They will have four Ultium Cells LLC plants running by that time with enough capacity for more than one million vehicles. But they will have to execute on everything, and so far the EV roll outs have been excruciatingly slow."
To speed things up GM said in February that it was adding to the $35 billion investment planned through 2025, that will give it the capacity to build more than 1 million units per year.
"We now have teams working to accelerate all of our upcoming EV launches, and our target is to deliver 400,000 EVs in North America over the course of 2022 and 2023," GM said in a statement.
Some analysts think that even if GM doesn't deliver the full EV rollout it promised, it will still have one of the quickest cadences in the industry.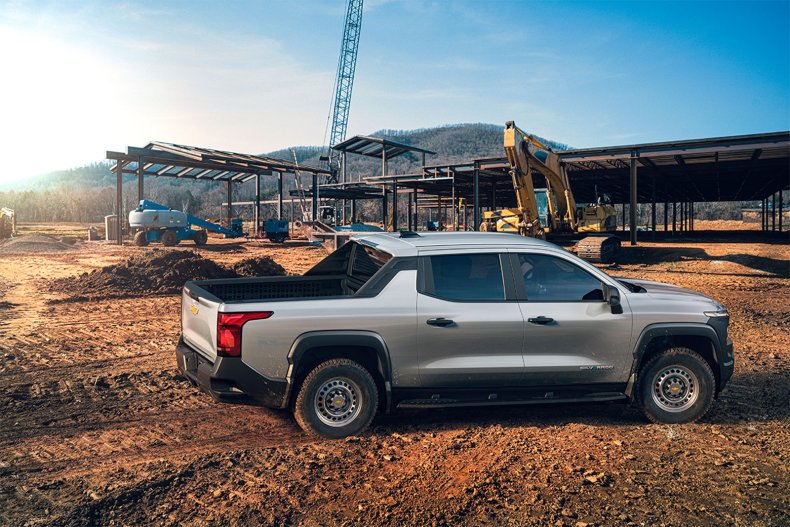 "GM promises its EV pipeline is full but it has been slower out of the gate than some contemporaries partially because it has prioritized laying the engineering groundwork that can be translated to every EV in the portfolio. Many other OEMs have been quicker to market with adapted internal combustion engine platforms for EV usage but it's more difficult to carryover that engineering work to other models," Paul Waatti, manager, industry analysis at AutoPacific told Newsweek.
"In contrast, the bulk of GM's development work has already been done with the engineering of the modular Ultium toolkit that underpins and powers all of GM's future EVs of various shapes and sizes. Designing 'top hats' for multiple vehicles on a common platform is a much more feasible task than also having to implement unique engineering for each vehicle under the sheetmetal simultaneously," he said.
McDonald's forecast says that GM will sell fewer cars than both Tesla and Ford in 2025, and into 2030. Tesla now has two factories running in the U.S., Austin, Texas and Fremont, California, and has been building its Model Y and 3 for longer than GM's new electric vehicles.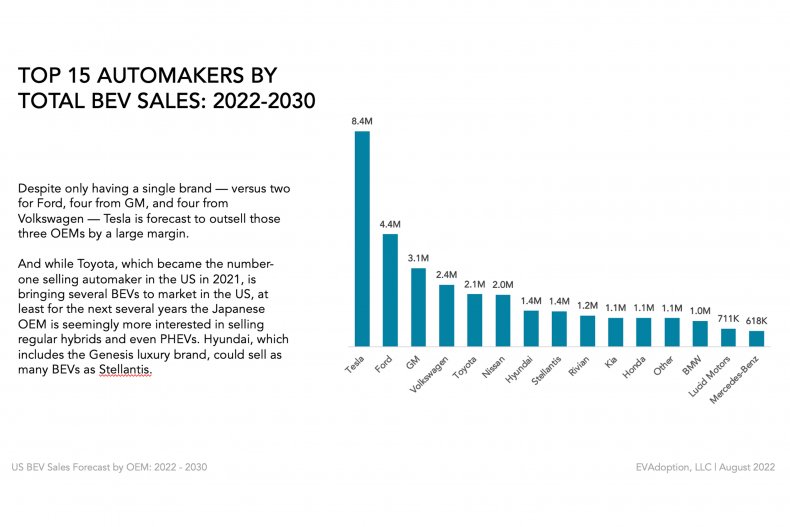 "GM has a number of promising EVs coming to market including the Cadillac Lyriq, Chevrolet Silverado EV, Blazer, and Equinox, however the three Chevrolet models are not likely to reach significant production volume until 2025. In comparison, Tesla has been producing the Model 3 since 2017 and Model Y since 2020," McDonald said.
"The GMC Hummer EV and Cadillac Lyriq will be relatively low volume, and the Silverado EV and Blazer will launch at higher price points, likely limiting higher volume sales until 2025 or 2026. GM's biggest sales volume hope is the Chevrolet Equinox."
There's also the final question of status, and how much it means to an EV buyer to have a high-status brand name.
We're still in the early adopter phase of EVs, which is dominated by tech savvy, higher income, brand conscious-status seeking buyers. Also known as 'conspicuous conservation,' these EV drivers want to show their neighbors that they are helping to save the planet and that they are successful at the same time. Tesla checks both of those boxes, whereas driving a Chevrolet may only check one.
Barra recently told CNBC that GM would lead the world in EV sales by mid-decade and that GM will sell 1 million electric vehicles per year by 2025 in the US and China. GM's 25,000 EVs sold in the US last year pale in comparison to Tesla's more than 300,000 units. But, globally GM moved 516,000 EVs in 2021, the bulk of the rest in China, still putting that 1 million mark within sight.
That would be a major promise kept.