Overview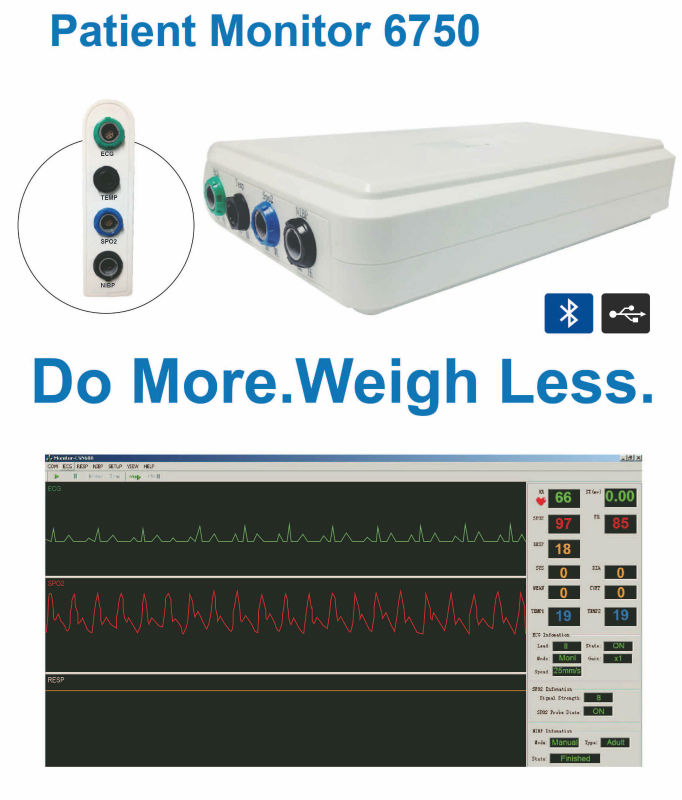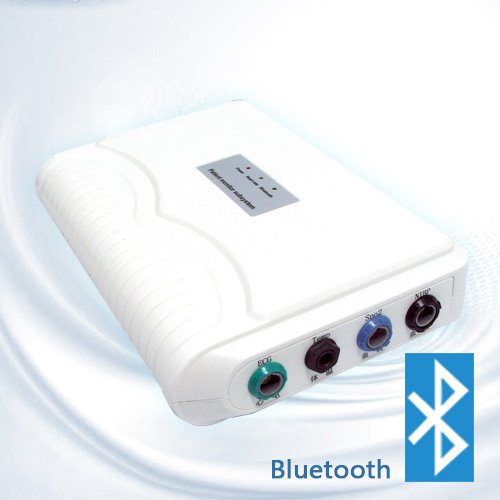 Feature
Six parameter Bluetoothmodule is including Spo2,Pulse Rate, ECG, NIBP and Resp functions. It can
beconnected by serial RS232,Bluetooth and USB.
Real-time patient data upload stable, good mobility , convenient and reliable. Continuous monitoring
facilitate customer secondary development according to specific needs ,the traditional guardianship upgraded
to modern mobile monitoring products.
Specificat
Operation system
Android
ECG
Full lead:5-leads ECG, output 7 channels (I II III aVL aVR aVF V)
Gain: 2.5mm/mV,5mm/mV,10mm/mV,20mm/mV
Scanning speed:12.5mm/s,25mm/s and 50mm/s
Band width:0.05Hz-100Hz(3dB)  Diagnostic mode
1-40Hz       Monitor mode
0.1-25Hz    Operation mode
Resp
Chest impedance method or concentration of carbon   dioxide at end of respriation
Range:0 time/minute -100 times/minute
Accuracy: ±2 time/minute
Temp
Type: Vascular/surface temperature
Scope: 20℃-50℃
Accuracy: ±0.2℃
NIBP
Detection scope:
Systolic blood pressure: 4kPa-34kPa(30-255mmHg)
Diastolic pressure: 2kPa-29.3kPa(15-220mmHg)
Mean pressure: 2.7kPa-31.3kPa(20-235mmHg)
Detection accuracy: Static pressure:±4mmHg
SpO2
Detection scope: 35%-100%
Accuracy: ±2% 80%-100%
±3% 70%-79%
Heart rate
Scope:   15bpm to 300bpm
Accuracy: ±1bpm
AC adapter
Input:AC100-240v-200mA

Output:DC 12V2A

Bluetooth
Support both   Bluetooth 3.0 and BLE 4.0
Service life
Over 10000 times
Size
240mm*165mm*50mm
Weight
620g
Delivery time
Samples: about 2 days
Mass production: about 15 days (2000pieces)
OEM: about 25 days